The Little Book of Paws
The Little Book of Paws is available in both Panther Black and Oyster White and comes in it's own box.
These albums come with reposition-able images, which means that you can constantly change the album around or even add to it at a later date. There is a protective mesh on each page which allows you to reposition your prints with no air bubbles. Ideal if you want an album that can be customised by yourselves over and over again.  As with all our products, these are created to exacting standards here in the UK.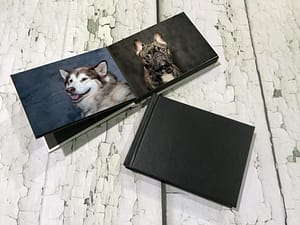 The Renaissance Album

Renaissance albums are renowned for their quality and are produced in the UK using the finest materials. Each product is hand checked at several points during creation by our team to ensure the best possible product is sent to present your images.
We offer a versatile range of cover options including leathers, linens and buckrams to dress your album. In addition to this you have the option of a collection of paper types including lustre, gloss and metallic. These albums have 10 pages allowing 20 plus images, including portrait and landscape layouts, the option of full double page spreads and come in sizes of 12×12 and 12×9.
The Fine Art Album
The fine art albums range gives a new depth to the popular digital album choice by using Matte Fine Art Paper. The matte fine art paper provides longevity and better colour vibrancy, with the matte option providing an alternative to the sheen that comes with more common gloss or lustre photographic papers.