The Bloke Behind the Camera
Hi, I'm Alan, an adventure-loving, photography-obsessed, father-of-five from sunny Stoke-on-Trent
Nothing makes me happier than capturing magical moments in time — those beautiful, natural interactions between family members and pets that you'll treasure forever.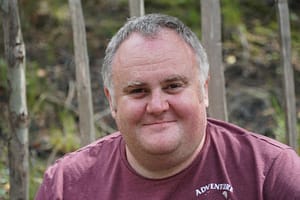 Let Your Personality Shine 
Having a lovely, large family with plenty of pets, I'm no stranger to the hustle and bustle of family life. And I know how to engage dogs of all sizes to get the best out of everyone's personality. So, if you're looking for a photographer in Stoke on Trent who can capture the unique character of your dog, you've landed on the right site.
I'm a member of The Guild of Photographers, The Societies of Photographers and the Sentinel's photography group, SnapperSquad. My work can be found in several publications of the Sentinel and hangs proudly in many homes across the UK.
Relaxed Pet Photo Shoots in the Comfort of Your Own Home or the Great Outdoors
If you are looking for amazing images of your pet, my natural approach to your shoot will make sure your amazing character gets captured by the camera, and you have a great time. 
When my camera's in the case
When I'm not taking pictures of incredible pets, I enjoy hanging out with my five, fantastic children, three dogs and chatting to my tropical fish (they're impressive listeners!). 
My passion for photography was passed on from my dad, who was a keen amateur photographer. As a child, I spent most of my time following my dad around, watching him take photographs and helping him to clean the camera lenses. My apprenticeship started early, giving me a real love of the power and beauty of a moment captured on camera. 
Whether you're looking for an affordable pet portrait photographer or amazing 60×40″ prints of your pet to hang on your walls, give me a call and let's have a chat about your photography plans. 
Alan